We are excited to introduce a unique collaboration between Drinks Designer and Cognac Hellfest, two iconic brands coming together to deliver an unforgettable experience for music and spirits lovers. Drinks Designer, recognized for its expertise in creating innovative and refined wines, is teaming up with Cognac Hellfest to create an extraordinary taste experience.
Sounds and Flavors: The Explosive Collaboration between Drinks Designer and Cognac Hellfest
More than 2 years ago, Ben Barbaud, Founder of Hellfest, Bruno Arrivé, Master Distiller and Jean-René Bahuaud, architect-designer of the range, selected the best cognacs from Château Bellevue. Their sole objective is to create an exceptional range bearing the image of Hellfest.
It was necessary to select an exceptional "Single Cask" (the single barrel from which the eau-de-vie comes). It was after blind tastings that the small team of enthusiasts unanimously set their sights on the barrel bearing No. 188 in November 2022.
The precious beverage, with its amber color and subtle aromas of bitter orange and nutmeg, will take its place in the screen-printed bottle stamped with the "H" of Hellfest. It constitutes the spearhead of the Cognac Hellfest range: The "Réserve 70".
It was also necessary to define a great Cognac There is no doubt that its intense and suave nose with its notes of dried apricot, citrus and vanilla will transport you from the hell of Heavy Metal to the paradise of very, very great cognacs!
"Réserve 70" the Single Cask and Cognac Hellfest "XO" the Single Estate are the two great cognacs that make up this range of numbered 70 cl bottles, which celebrate the strength and spirit of the Festival.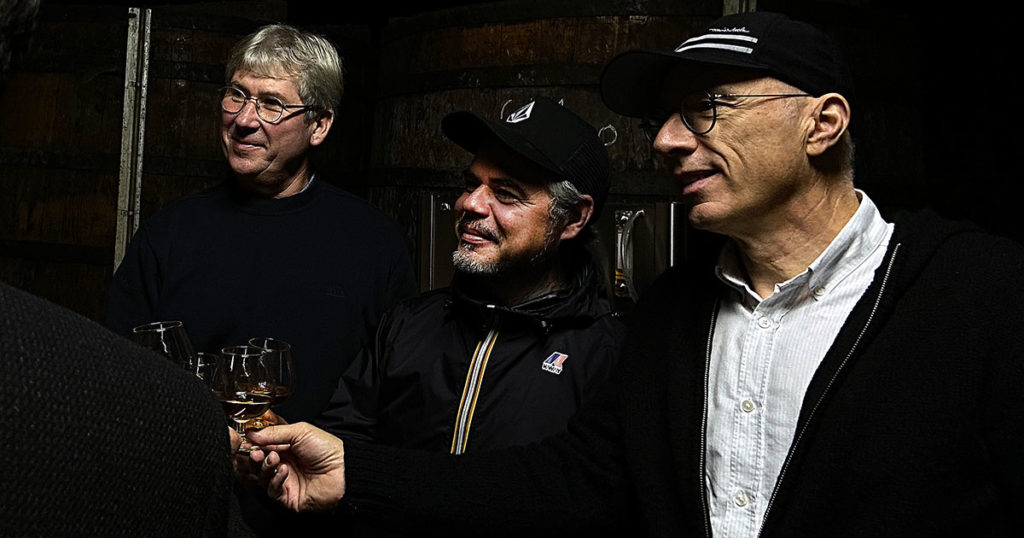 Ben BARBAUD, Bruno ARRIVÉ and Jean-René BAHUAUD after blind tasting the cognacs from the oldest barrels of Château Bellevue.